If you like babywearing and getting outdoors every day, you can combine these two things well – with baby in a carrier you have your hands free outside, the baby close to you and you can go anywhere you want without obstacle. Important: a jacket that fits you both and functions no matter the weather.
That is why we developed Dublin, the first mamalila rain coat. It protects you from wind and rain, but does not look like a standard rain coat.
With its light cotton lining it is made for the whole year – when it is cold you can add a thicker layer underneath but you can also wear it in autumn, spring or on cooler summer days. That is why we called it after the Irish capital, there you can experience four seasons in one day and being prepared is part of everyday life.
With that in mind we have incorporated many adjustable options ensuring that the coat is versatile, allowing you to use it in many different ways: while babywearing, when pregnant, for cycling, when strolling around town or out walking the dog.
As with all mamalila babywearing products, this babywearing coat also comes with a maternity insert and a baby insert. So that you have a classic mackintosh, a materntiy coat and a babywearing coat which you can use for front and back carrying. And bonus: the baby insert has a hood with an integrated head supprt, so not only protecting baby from wind and rain but also supporting the babys head when sleeping.
One of the most special features with Dublin is its material. The outer fabric of the babywearing coat is primarily organic cotton, which is environmentally friendly and fairly produced and simply feels good, it is supplemented with recycled nylon, which makes the coat strong and durable. Dublin is FC-free impregnated and lined with organic cotton. In combination with the taped shoulder area and windproof, breathable membrane, this makes for an unbeatable combination of weather protection, sustainability and style.
Suitable for
SPRING
SUMMER
AUTUMN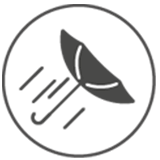 What you can expect
2 way zippers
Adjustable cuffs
Tab at the waist to adjust the width during pregnancy, when babywearing and beyond
Detachable mom hood
Baby insert with neck guard
Baby hood with integrated head support
Taped shoulder seams
Two outside pockets with flap
Wind and waterproof material
100% sustainability
Material
3 layers laminated with wind and waterproof membrane:
1. Layer: 60% organic cotton, 40% recycled nylon
2. Membrane: 100% polyurethane
3. Layer: 100% organic cotton
Eco-Information
FC-free impregnation
PFOS/PFOA-free membrane
Organic cotton
Recycled nylon
Further information on sustainability
Care Instructions
The rain coat is machine washable at 30 degrees . Please do not use fabric softener!
To refresh the water repellent properties of the coating, you should iron the coat briefly at a low setting after washing (setting 1).
Not suitable for tumble drying and not for dry cleaning.
We recommend reimpregnating the jacket from time to time with an FC-free impregnating agent.
Size Inforamtion
Orientate yourself to your normal clothing size. It is important that the jacket fits you later on even without a baby.
There is room for your baby up to 1.5-2 years thanks to the insert.
You will need the pregnancy insert from about 7 months.
If you are unsure about the sizes, we will be happy to advise you!
XS
S
M
L
XL
Deutschland
Österreich
Nederlands
36
38
40
42
44
US
6
8
10
12
14
UK
10
12
14
16
18
France
Belgique
36
38
40
42
44
Italia
40
42
44
46
48
Körpermaße:
Body measurements:
Brust / Chest
75-85cm
83-93cm
91-101cm
99-109cm
107-117cm
Taille/Waist
69-79cm
77-87cm
85-95cm
93-103mc
101-111cm
Hüfte / Hips
86-96cm
94-104cm
107-117cm
110-120cm
118-128cm
Ärmellänge der Jacke
sleeve measurement of jacket
66,0cm
66,5cm
67,0cm
67,5cm
68,0cm